Welcome to the launch of The Fog Warning 2.0. The new website allows us to share our stories with you in more helpful and engaging ways.  You'll find more exciting high-value content, more informative videos and special reports, and most of all the latest in compelling story-telling platforms:
I'm also tremendously excited to share with you how The Fog Warning has become the first in the industry to offer carbon neutral yacht ownership to our clients.
It's all quite a story.  Enjoy the ride!
I. Tom Brady Goes Dutch
The Fog Warning's mantra is becoming more widely recognized with every passing day. The latest "If it ain't Dutch, it ain't much" convert is Tampa Bay quarterback Tom Brady, who last month took delivery of his Dutch yacht – A Wajer 55:
Here's the sports media's amusing take on his choice. While these sportscasters get most of the details wrong, you can't fault them for their excitement. Or their envy!
Long time readers of The Fog Warning know well my passion for Wajer Yachts. Pronounced "Wire", they are still largely unknown here in the States (I believe Brady's Wajer is just the fourth USA model). I find their quality, engineering and performance to be all I have learned to expect from the Dutch. I've gotten to know the yard and its management team quite well. I've run these yachts in Holland, the Med and in the States, and I am exceedingly impressed. They have become quite the phenom in Europe, to the point where they pretty much own the day boat market there. Their biggest challenge has been building enough to meet demand, but their recent expansion should do the trick.
Their "entry level" offering is their W38:
And a much bigger [currently hush-hush] addition to the line will splash shortly. If you would like to hear more about Wajer, just launch a flare. I am here to help.
Interestingly, this makes Brady the second NFL quarterback to recognize the quality and value of Dutch yachts. John Elway, of Denver Bronco fame, bought a Zeelander 44 a couple of years ago. Like Brady, he keeps it in Florida:
Zeelander 44's are no longer in production, but there are always a few available on the brokerage market. Last November I made my way up to Maine to see this 2013 model, currently asking $775,000: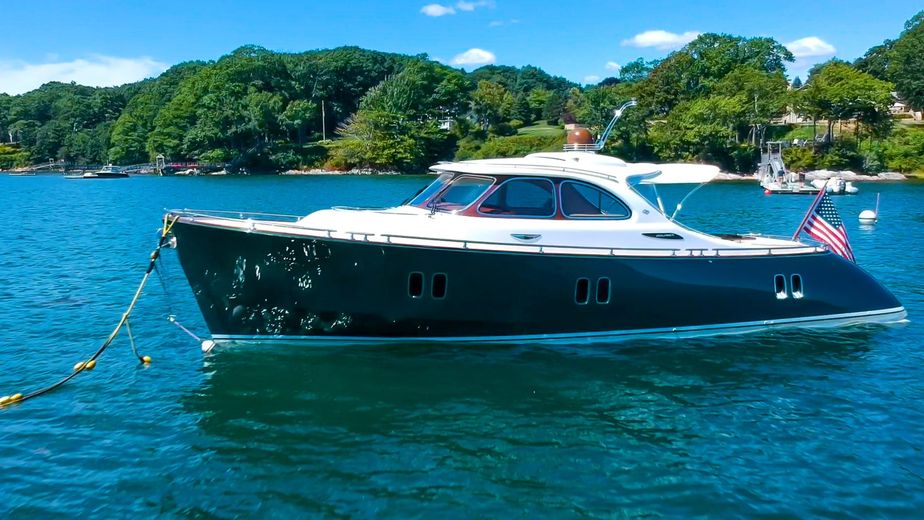 Just launch a flare for my observations, and feel free to check out her complete listing.
II. A Brave New World
Wajer, Zeelander, Pardo, Van Dutch, Vanquish, and of course Hinckley and Riva have essentially created their own new class of yachts. Three years ago, while selling Hinckley's, I began calling this the "Luxury Day Boat" market. I've been watching this sector quite closely these last few years, proudly observing its growing market share.
While the success of this sector started and continues in Europe, it has begun to positively explode here in the States. In Florida and the Hamptons, of course (in Sag Harbor you can almost hop straight across the harbor from day boat to day boat without wetting your feet), but now the Luxury Day Boat tide is indeed spreading across America (lately, notably, the Great Lakes)!
I'm particularly excited by this because of my representation of Holland's Long Island Yachts:
With seven models between 25 and 40 feet, I find Long Island Yachts hit the exact sweet spot of the rapidly growing Luxury Day Boat market:
LIY is about to deliver its one-hundredth yacht in Europe. I firmly believe they will splash even bigger here in the States, and I'm putting all I have behind them. I've been to the the LIY factory many times, have worked closely with their design and production teams to better tailor them to the US marketplace, and I've run their yachts on the North Sea, the Med, and our Atlantic coast.  I find their styling, engineering and build quality to be top-notch, as well as a tremendous value in the Luxury Day Boat market.
What Long Island Yachts does better than almost anyone in the industry is merge quality with value. For example, in both their Traditional (cuddy cabin) and Sportsman (center console) lines, they deliver bow thrusters and teak decks as standard equipment.
I've also come to appreciate a pivotal design feature of both lines: Their shallow draft abilities. You'll see here their fully protected underbody, perfect for exploring skinny waters from the  Chesapeake to the Bahamas:
Or, to safely slide over errant icebergs:
If you'd like to learn more about the LIY story, your timing is excellent! I present you now with Episode #1 of The Fog Warning Podcast. My interview with LIY founder Onno Laardhoven covers the LIY story at length, as well as our predictions and observations about the Luxury Day Boat market in both Europe and the USA. You can find it here:
As you can tell, I am completely thrilled and proud to represent Long Island Yachts in America. For a deeper dive into all things LIY – including pricing, options, and delivery dates – just launch a flare. And of course explore the brand new Fog Warning website.
And the same goes for my representation of Holland's Hartman Yachts, builder of the Livingstone and Amundsen lines of explorer yachts:
You can learn more about the Livingstone 24 in my snoozeagram, below.
III. You Snooze, You Lose
As detailed in Episode #1 of The Fog Warning Podcast,  what you have been hearing on the docks is not just hype – brokerage yachts sales have been record-setting during the pandemic. There is now a real shortage of quality brokerage boats out there. The public (and not just the traditional yachting-buying public) found that Yachting = Social Distancing. I've sold three brokerage yachts in the last few months, including Mahogany Rose:
I'm also knee-deep in helping clients search for just the right Vicem. Check out the stunning woodwork Vicem is famous for in our just-explored Windsor Craft 36  in CT: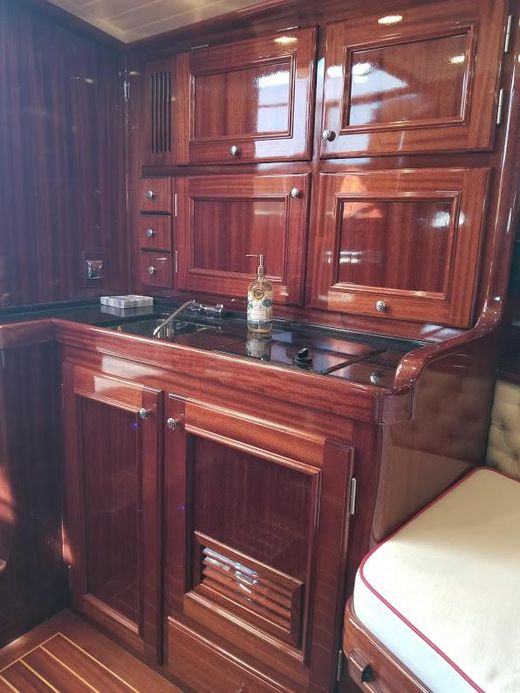 I've also been carefully evaluating the considerable value in Hinckley's early series of Picnic Boat Classics:
If you can be flexible about the wide range of jet control systems (Generation 1, 2, or 3) on these early models, there are still real opportunities to discuss. Just launch a flare!
As or my own inventory, well, there's not a lot left. But foremost among them is this 2017 Livingstone 24:
Stunning photographs, interior plans, and a thrilling 360 degree virtual tour right HERE.
As always, just launch a flare.
IV. The Podcast and You
So why, one might ask, a podcast?
I started blogging over a decade ago, with my Vicem Blog.  And while that particular blog has been on the shelf since 2012, it still continues to rack up an enormous number of hits. Not a month goes by where I don't receive Vicem inquiries through it. I've learned a lot about blogging over the years (which is why The Fog Warning now gets 10,000 readers a year). And the main lesson is this:
Knowledgeable yachtsmen and women hunger for quality content.
And with traditional publishing's challenges (just see how skinny the boating mags have become) I'm told The Fog Warning fills a valuable need. I'll say this: It certainly helps me sell a lot of boats ($50 million at latest count).
I recently read that podcasting today is where blogging was back in 2005, and that we are about to enter "the golden age of podcasting."   This was on my mind when I recently met a quite knowledgeable client aboard his yacht, as he'd begun to think about selling her.
Our highly-substantive talk ran over three hours. Reflecting upon it later, I realized that however valuable a blog's content, there are limitations to the written word. Perhaps a supporting forum (one, lets say, that you can listen to on your boat, bike or commute) could provide greater value to more people.
So there's your answer!
I've got the next six months of podcasts mapped out. You can expect wide-ranging discussions with builders, designers, naval architects and brokers as we seek to answer (you've heard this before) the two eternal questions of yachting:
What makes a yacht great, and why? Who makes a great yacht, and how?
I also realized  that no one – not even the world's top brokers – can tell the story of a fine yacht with the same knowledge, passion and enthusiasm as her owner.
So I am throwing the Fog Warning Podcast open to my owner's as well. If you would like to tell the full story of your brokerage yacht to a world-wide audience of qualified yacht buyer's, I am here to help. Please call me for the details.
V. Tom, Giselle, Me, and now You?
I expect that Tom and Giselle will dock their Wajer 55 at their new Indian Creek home:
Frankly, I didn't know much about Giselle before Tom bought his Wajer. But I've since learned a lot about her efforts to combat deforestation in the Amazon, including the planting of hundred of thousands of trees to replace those illegally cut down by loggers. I've done a small bit of this kind of work in the hills of eastern Haiti while building a school in the mid-2000's:
And I've seen how quickly embattled environments can bounce back. If you give Mother Nature a chance, she fights hard! Which is in part what led me to our latest and best initiative: The Fog Warning is the first company in the industry to offer carbon neutral yacht ownership to its owners: 
Why? Because our quality time on the water directly depends upon the quality of our marine environments. We've all become aware how that environment is changing due to climate change. We see it with rising water levels at our docks, and with more extreme weather patterns inshore and off.  Most recently, the link between climate change and the rise and spread of pandemics has become increasingly clear. So I feel that our industry has a responsibility to do more to assure safe, quality yachting experiences for our owners, and for subsequent generations of yachtsmen and women.
How? Buy a yacht, new or used, from The Fog Warning and we will provide you with a carbon-neutral ownership experience. Just send us your fuel receipts at the end of your boating year, and we will buy offsetting carbon credits to make up for your fuel use.  What's more, we will do this for as long as you own your boat. 
Who? Our first partnership is with The Ocean Foundation's Sea Grass Grow project. By planting and nurturing coastal sea grass acreage, shorelines are preserved and additional carbon is naturally absorbed, as demonstrated here:
That's the plan, my friends. And while I'm proud and pleased that The Fog Warning is  the first carbon-neutral dealer in the industry, nothing would make me happier than knowing we are not the last.
So please consider spreading the good word. In my experience, no one – not builders, dealers or designers – has more collective power in this industry than yacht owners. So even if you choose to buy a yacht outside of The Fog Warning,  consider asking that builder or dealer to follow The Fog Warning's way.  They can contact us directly for the details.
Thank you! And, most importantly ……
Big Wave Dave