I have returned! With four cities and ten boats over five days under my jet-lagged belt, I'd like to share with you some of what I learned. Feel free to skim through until you find something you like, and trust that I'll tie up all its diverse threads in a bow for you at the end of this post.
I. First Stop – The Hague!
Midway between Amsterdam and Rotterdam, I spent the day at the home of my wonderful "little" pocket yachts – Long Island Yachts:
You'll see below that the LIY factory is humming along nicely. Having sold 80+ of these wonderful boats in Europe, I am convinced they can handle the US market with skill and dependability.
I am so pleased to announce here for the first time that LIY is sending me a 33 Classic demo boat for the coming season! You'll find this lovely beauty at my dock in Shelter Island this summer, and in harbors from Montauk to Essex. I look forward to showing you what she can do, but until then, enjoy this video and call me for pricing and availability.
II. The Zeelander 72 Launch
I was honored to be among Holland's yachting elite for the launch party of Zeelander's greatly anticipated 72. It was … incendiary! I've seen launches like this at Cannes and Monaco, but never a party of this scale at a factory.
Trust me, professional photography and videography will follow at length, but here are some early views to tide you over until then:
You can see full coverage of this party, with additional photos right here:
https://www.zeelander.com/zeelander-z72-yard-launch-vip/
I spent a full day exploring this fine yacht, and here are my observations:
Long time readers know that 72' yachts are the most common models I have sold – at least six or eight of them, from several builders, all with traditional straight-shaft power trains. It's a footprint I know intimately!
The Zeelander 72 changed my space-planning expectations. The interior volume that intelligent IPS engine installations provide is just remarkable. Her total living area almost approaches that of my Vicem 85 model (albeit in a narrower beam). 
This was clear just about every place I looked:
Her master cabin is positively huge. The only time I've seen so much "empty" space around built-in furniture is on larger, mid-cabin master cabin yachts.
Although not terribly clear on the layout plan, she even has a walk-in closet to starboard.
Notably, each of the two guest cabins are quite large, almost the size of master cabins on many 58' boat yachts.
What's more, shower areas, often a space sacrifice in boats this size (particularly European builds), are voluminous here. 
Exterior space, particularly with what I estimate is a 150 square foot extended swim platform, is almost ridiculous! For entertaining, this boat could easily absorb a 20+ person cocktail party. 

My design quibbles are just two or three in number, and they are minor. Please feel free to reach out to me privately and I'd be happy to share them with you.
A brief discourse here, loyal readers, about global markets, and what they can mean for you….
Careful readers will note at the bottom of each page icons for the Russian and Chinese versions of The Fog Warning. They are becoming much-used services. How much so?
Currently 9% of all readers of The Fog Warning worldwide are from Russia!
3% are from China, by the way. But I'm working hard on increasing that number.
The Russian market is booming, and I find those clients to be among the most yacht-savvy boaters I have met. Case in point, the Zeelander 55 I'm shooting above has just been sold to a client in Russia. Here she is, the very next day, on her way to points east:
To continue this multi-lingual thread, in the last month I have received two inquires from the UAE about Ojala, our Vicem 80 listing:
Those inquiries have spurred me to add an Arabic version of The Fog Warning, and interested readers can find that new icon at the bottom of each page as well.
My point here, loyal readers and yacht owners, is that The Fog Warning's global reach can be a huge asset in the sale of your fine yacht. Please call me to find out how my global reach can find a new home for your yacht.
OK, back to my Vicem 80! The number one question I receive about this yacht (formerly known as the Vicem 75, before the swim platform length was added to its overall measurement) is how she differs from the best-selling Vicem 72. Well, that is now an easy question to answer. You'll see here how just a bit more length and a bit more height allows a comfortable fourth cabin to fit in nicely:
The full listing for this Vicem 80 can be found below. And if you are coming to the Palm Beach Boat Show next week, I'd be happy to meet you in Miami to explore her together. I'd say she is certainly worth your time:
https://www.yachtworld.com/boats/2011/vicem-80-flybridge-3515047/?refSource=standard%20listing
You will find me on D – Dock at the Palm Beach Show, under the Northrop & Johnson flags. I will be aboard the Zeelander 55 from March 28th through the 31st. I look forward to showing her to you there. But until then, this will have to suffice:
III. On to Istanbul!
I spent a great day with my friends from Vicem Yachts in Istanbul. I saw their almost done 68 Cruiser coming together, and you'll be able to see her for yourself at the fall shows:
Vicem is having an impressive line of yachts at the Palm Beach Show. They're having a cocktail party on Thursday night, and you'll see me there!
IV. And Finally, to Antalya
Antalya is a stunning historic Roman harbortown in the far south of Turkey. It is one of my favorite places on the planet, which is why this was perhaps my tenth trip there. It's a sleepy, Mediterranean kind of place, as evidenced by my canine friend here:
I returned to Antalya to meet with AvA Yachts, the builder of the striking Kando line of go-anywhere steel/aluminum yachts.
They are finishing up hull #1 of the kendo 110, set to splash in six weeks:
And, I saw that they are two months in to hull #2, destined to deliver to NBA star Tony Parker in nineteen months:
In the end they will both look like this: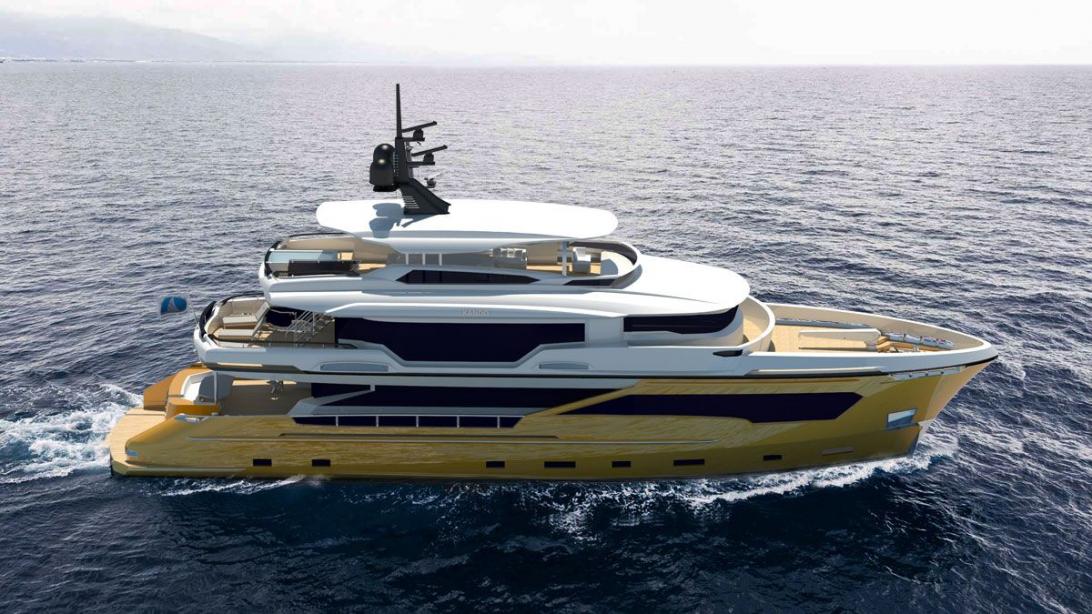 But they will have very different layouts. #1 is a five-cabin model, with the master cabin in the bow:
To each his and her own, of course. But personally, I have a thing for aft-cabin masters. By putting the master cabin on the aft deck, you get an enormous "porch" at the foot of your bed, presenting wonderfully romantic "sunsets-in-bed." After all, in the end ain't it all about the romance?
Numarine does this with their line of explorer yachts. But as you'll see here, that back porch view will usually be blocked by tenders and water toys:
The Kando 110 (aft master) places the tender on the front deck, preserving those unblocked bedside sunsets:
As I say, to each his and her own. That's the thing about yacht building in Turkey – You can always have it your way, usually at minimal extra cost!
V. And Home!
Finally, back to New York, for one week. Then I'm off to Zeelander-world at the Palm Beach Show. I do hope to see you there. But I'd like to leave you with this closing thought – A top industry executive once said this (kindly!) about my success in the boat biz:
"Dave may not be the absolute best broker in the industry. And he may not be the #1 hardest working broker in the industry. But he always shows up!"
Yah, showing up is what I do. So please consider letting me show up on your behalf, my loyal readers, sellers and buyers. You know me, I aim to please. And to deliver!
Thanks, and enjoy!
Big Wave Dave
https://thefogwarning.com/wp-content/uploads/2019/03/419c88a2-559b-4542-8c5f-19a804bba6de.jpg
625
864
dave mallach
https://thefogwarning.com/wp-content/uploads/2021/04/logo-fog-300x69.png
dave mallach
2019-03-25 20:42:34
2021-03-04 17:58:17
Your Globe-circling Report